The next target of the 'filler brigade' was Sheffield's 'famous' Hole-In-The-Road (Castle Square) completed in 1964, this was a huge underpass for pedestrians and at street level a big roundabout that joined High St. Angel St. and Arundel Gate, this place was so big trees where grown in containers, shops surrounding the 'Hole' had big display windows and entrances, seating and even a big fish tank, but due to changing times people were scared to use this underpass at certain times of the day, instead preferring to risk life and limb crossing busy roads.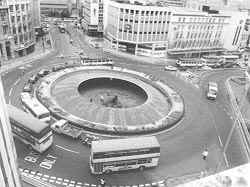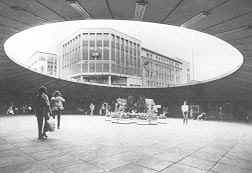 Above:- Two images of the 'Hole In The Road'. On the left a view from above, during the 1990s and on the right, as seen from inside the 'Hole', C+A which can be seen in the background is on the junction of Angel St and High St. What isn't shown on these photographs is that most of the surrounding shops had entrances and large display windows within the hole, also there was a maze of footpaths that ran in all directions.
Below:- A map of the surrounding streets.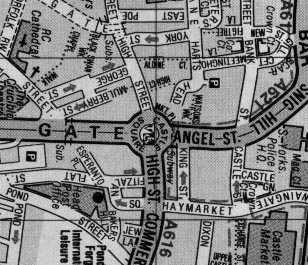 Just along Arundel Gate from the 'Hole-In-The-Road' was the filler brigades next target. This was yet another underpass 'Hole' - Furnival Square, but this one joined 4 roads, allowed one road to go straight under and through and also allowed pedestrians to cross over from any of the four corners. The difference with this particular underpass was that under and through road (Eyre St./Arundel Gate) was a major road that carried lots of traffic passing through the city centre, the council decided that shutting down this under and through part of the underpass would discourage drivers from driving through the city centre to get from one side of the city to the other, in fact it seems to me the only thing this closure has achieved is to increase the traffic on other minor roads that aren't capable of handling such levels of traffic. The under and through part of Arundel Gate has been closed for several years with the filling in only starting during the early part of 2000.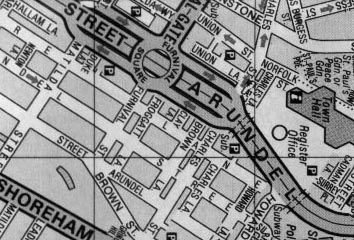 Above:- Map showing road layout around Furnival Square. From this map the 'under and through' road can be easily seen. Pedestrian underpasses joined all four 'corners' of the juction. Photograph to follow!
The only question now is - what will they fill next?